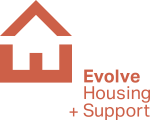 Towards the end of last year, a group of DH staff spent a day connecting at Evolve Housing + Support. Find out more about the day through the eyes of Harriette Cradock…….
Having only ever been to Croydon once before, I sure got to know it a bit better after desperately trying to find Alexandra House (below), a hostel for homeless people in Croydon, run by the charity, Evolve Housing + Support! Discretely signed, the building looked more like a block of flats, or swish university halls, than the austere YMCA (as Evolve used to be run by) in my local town.
Once settled in, we were greeted by the Director of Operations for Evolve, Lee Buss. Lee gave us a history of the organisation explaining their transition from YMCA to the newly branded Evolve in 2016 and explained the reasons for breaking away; the first ever to do so. He then went on to explain to us about their new endeavour: CR Zero 2020. He explained how Evolve, on behalf of Croydon, had joined a European campaign to eradicate chronic homelessness in a number of European cities by 2020; one of only two London boroughs to take part.
The aim is to get a number of local people involved in the initiative to make the eradication of homelessness an issue for the town to solve itself: something that made a lot of sense. Lee went on to explain how far Evolve's stretch went in regard to homelessness across the southern region of London and the great number of initiatives the charity were undertaking to help their customers (as the charity refers to its service users). One thing was clear to me: whilst the challenge seemed huge, Lee and his team were extremely passionate about making a real difference to the lives of people finding themselves homeless.
After the introduction, we were given an overview of the key statistics of the customers. It was saddening to see the number of customers who were dealing with substance abuse, mental health conditions, or both.  Evolve seem to work tirelessly to help these individuals deal with their issues, offering therapy with an extremely short waiting time; something surely invaluable to someone trying to get back on their feet. The question was raised: could the Department of Health do more?
The answer was not so simple. We were told that whilst services were available to their customers to help them get the support they needed, it wasn't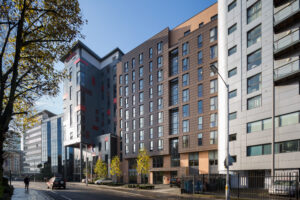 as easy as it could be, as some of their customers still struggled to register with a GP, making it impossible for them to obtain the medication and/or support through the NHS that they might desperately need. This was certainly food for thought.
After hearing about the great number of initiatives in regard to health and wellbeing for Evolve's customers, we were treated to a tour of the building. Housing 80 customers, it was warm and had a real sense of community about it. The maximum a customer is able to stay at Alexandra House is two years; I can't imagine how difficult it must be to leave somewhere which is a haven of safety after what must be, for some customers, follow turbulent times. The hard work the charity and all its staff do to prepare its customers for life after the hostel is evidently huge.
After our tour we then broke in half: half of us to another Evolve housing unit for adults, Palmer House, and half of us to Ingram Court, a housing unit for young people. Having worked with young people throughout my career, I was extremely interested to see Ingram Court, a unit for 16-24. Having previously been a secondary school teacher, I was really shocked to be faced with the reality that we have homeless young people, who are expected to manage their own finances, housing and lives; something that is miles away from what young people are taught to manage in school.
We were met by Richard Hennell, the manager of Ingram Court, who took us on a tour of the buildings. Just like Alexandra House, it was modern and definitely had a university feel to it. There was a large games room that the customers had helped decorate along with graffiti artists and a room with a large projector and games consoles. It felt like a place the young people I know wouldn't mind living in!
We then went to meet some of the customers, who were busy in a cooking session, making lamb and roast vegetables. Confident and chatty, the respect between the customer's and Richard and his team was clear. During a conversation with Richard, he told us of the different daily challenges he faced: young people cannot access the full range of financial support when homeless, if they are in full time education, meaning that if any young person at Ingram wished to go into full time education, they would have to leave.
Young people are expected to manage their finances and afford rent in London (after leaving Ingram), whereby getting anything close to what Ingram offers wouldn't be covered by first time job wages, or benefits! However, he did go on to tell us of a customer who had recently gained a place at university; of the young people who go on to move back in with families in much happier circumstances, no doubt helped by the support offered by the facility. His positivity and optimism outweighed the barriers he outlined and I left Ingram Court with mixed feelings.
A heavy heart, knowing that people in our country are dealing with such challenging circumstances, but hopeful and heart warmed that people like Lee and Richard are working every day, in ever challenging situations, to help people, at a time of difficulty in their lives, have a brighter future.
Interested in finding out more about Evolve housing + Support? Book on to the Connecting Comes to You session on 31 January – there will be plenty of opportunity to ask questions too and you can register for this event here. 
Want to know more about how Connecting can help you and your team?  The Connecting team (Jane Ellis in London and Roy Axon and Sophie Collinson in Leeds) would be very happy to join in with team meetings – get in touch via the Connecting mailbox (connecting@dh.gsi.gov.uk)