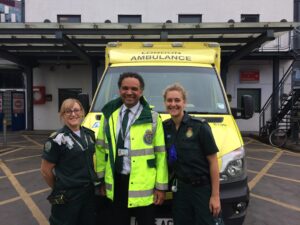 Barry Mussenden, Deputy Director for Corporate Engagement recently spent a day with the London Ambulance Service. Barry talks about his experience here. 
When I arrived at the London Ambulance Service (LAS) HQ in Waterloo  for a shift with one of their ambulance crews I knew I was in for an eventful day, but I still didn't really know what to expect.
So it was with some trepidation that I stepped into the staff room at 7am on a rather chilly Tuesday morning, but I couldn't have received a warmer welcome from the LAS staff clocking on for their 12 hour day-shift.
I immediately got chatting to a motorcycle paramedic, who was in the middle of telling me about some of the more colourful aspects of life as a motorcycle responder with LAS when he received his first alert of the day. The transformation from light-hearted banter to stern-faced professionalism was instant as he cut our conversation short and dashed off to respond to his first call out of the day.
This set the tone for the day, spending time with friendly, cheery and good-humoured LAS staff who would immediately switch to their 'game face' on receiving a call.
I was introduced to Emma and Donna, the paramedics who I would be riding out with for the day and no sooner had they finished explaining their role to me and the dos and don'ts of riding out with them on an observation shift then we received an alert to attend to a morning commuter who had fallen ill on arrival at Blackfriars station.
I'm all too familiar with the roads around Westminster Embankment, but these same streets begin to look very different when being driven at speed on the wrong side of the road with sirens blaring and blue lights flashing.  During the course of the day we responded a wide range of incidents and emergencies, including a patient who suffered a stroke while out shopping, a pedestrian knocked over by vehicle and a train passenger who tripped over on the platform and broke her leg.
I was massively impressed by the care and compassion that Emma and Donna showed to all their patients, most of whom were very grateful for the support and treatment that they received. However, it came as a shock to witness an example of the verbal abuse that paramedics can face in the course of carrying out their duties and they told me that they often face far worse, including a recent instance of attending to a man who had been beaten unconscious, and after cutting away some of his clothing and administering emergency treatment the patient regained consciousness and proceeded to fire off a volley of abuse about the damage they had done to his designer tracksuit.
Thankfully such reactions are not typical and it was heartening to see just how appreciative most people were for the care they received, including one patient who made a point of telling me that Donna and Emma were "angels".
It was a tremendous privilege to spend the day with Emma and Donna and to witness first hand their professionalism, dedication, excellent clinical care, good humour and the sheer pride that they take in the service that LAS provides.
As well as giving me an insight into the pressures of providing paramedic emergency medical care on the busy streets of central London, I also gained a better appreciation of the way in which some members of the public call on LAS for what prove to be non-emergency situations, which left me thinking about what more we can do to help inform and influence the general public about the appropriate use of emergency services.
If there is any interest in completing a similar placement to Barry's or for any connecting opportunities with the Department's Connecting Programme, please email connecting@dh.gsi.gov.uk