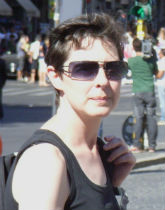 When the Connecting programme was first set up, I admit to being a touch sceptical about what it   might offer beyond the normal way of doing business.  Like other colleagues in DH, I have always spent time visiting and making links with organisations involved in the policy area I was responsible for, so how would Connecting be any different?
I have found that Connecting really does go that step further.  First, there is the immersive aspect – spending at least two days with a Connecting partner feels quite different from a half day or a day of meetings.  And, linked to that, the time available means that it's possible to meet and engage with patients and carers at some length.
Friendly, expert help is hugely beneficial…
I recently spent two days connecting with the Stroke Association.  After an induction session on the causes and effects of stroke, treatment pathways and the various roles of the Association itself, I was privileged to spend time with two of their "navigators" and the patients they are supporting.  Navigators visit patients in the community when they are recovering from a stroke - sometimes a patient will need just one visit and sometimes they might be visited regularly for weeks or months.
This was in London where the NHS has instituted the Hyper Acute Stroke Unit system - ambulances take stroke cases immediately to hospitals with specialist stroke units.  I heard nothing but good about this, with the one exception that on discharge the systems can sometimes be very poor at joining up.  After excellent, intensive treatment at hospital, patients can end up feeling 'abandoned in the car park'.
The Stroke Association's navigators help these people to find their way through the system.  When a stroke has devastated your speech or your mobility, and when you are struggling for words because of aphasia, you are going to find this all but impossible without help.  People with partners are at an advantage but even then friendly, expert help is hugely beneficial; and for someone alone, perhaps with English as their second language, it's hard to think how they'd manage at all.
I was most struck by the way the navigators needed to be walking Citizens' Advice Bureau, with up-to-date knowledge of the benefits and asylum systems as well as health and social care across both local statutory and voluntary services.
Consultation really is important
As a civil servant, I am used to the way systems are constantly being revised and reinvented.  We consult widely and at length on any change.  But one of the patients I met was at the start of the process of applying for the Personal Independence Payment, which replaces the Disability Living Allowance.  The new system requires you to make an initial application by telephone before the paper forms are sent out for completion; you can see why this looks like a good idea. But if you have no speech after a stroke, the telephone isn't an option; and it seems that the system doesn't allow anyone to speak on your behalf.
I am sure that this sort of wrinkle will be sorted out, but can't help wondering if it might have been foreseen and headed off at consultation.
In the meantime, the navigators are finding ways round the problem, but they're not available everywhere.  They are dependent on contracts from commissioners, and – again - I can't help wondering what happens in those areas where there is no such service, either voluntary or statutory.
So, what have I taken away from my two days connecting with the Stroke Association?  Nothing revelatory, but some powerful reminders.
The experience underlined the difference between the intellectual understanding you get from reading and talking about the impact of something like a stroke, and seeing it in real life
Consultation really is important -  I shall be even more careful about who to involve next time, and what questions I ask
The voluntary sector has many roles to play; lobbying for their client groups, and providing effective services for them too, as part of the new contracting processes.
Finally, stroke has gone up the list of conditions I do not wish to experience.  I shall be paying closer attention to my blood pressure from now on.